Convention Sketches
Here I'll put drawings I've done for people at comic book conventions. I've drawn far more convention sketches than appear here, but I have scans of only a small fraction. Some of those here, are scanned from poor quality photocopies. If I've drawn a commission for you, I encourage you to send me a scan or photo.
Convention sketches are drawn faster and rougher than commissions. Convention sketches are cheaper because they're a gamble and can fail as easily as succeed. With commissions I can take my time, have access to plenty of reference, and can even do over if necessary.
I generally charge $50 for an 8 1/2 x 11 inch inked, simple sketch.
Contact me -- mlpetersartist(at)yahoo(dot)com, or mlpetersartist(at)gmail(dot)com
Back to: The Art of Michael L. Peters
| | | | | |
| --- | --- | --- | --- | --- |
| | | | | |
| Captain America Sketch cover - - Motor City Comic Con 2014 | Bond, James Bond - - Motor City Comic con 2014 | Aquaman - - Detroit Fanfare 2012 | Solomon Kane vs. Zombies - - Detroit Fanfare 2012 | Angel - - Wizard Chicago Comic Con 2011 |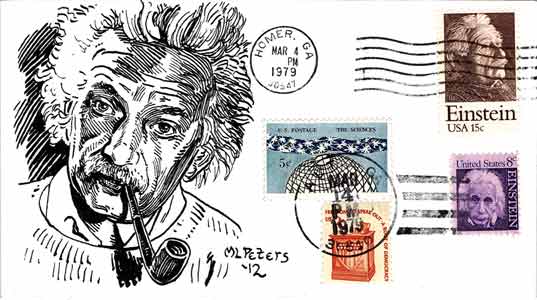 Einstein drawing on a postmarked Einstein stamped envelope.... certainly one of the odder drawings I've done while at a convention, but... it was a fun request. Drawn at the Motor City Comic Con 2012. The buyer has a collection of such envelopes, on which he has various artists draw Albert Einstein.
| | | | |
| --- | --- | --- | --- |
| | | | |
| Superman (Fleisher Studios cartoon costume) - - Motor City, 2011 | Hawkman - - Detroit Fanfare 2010 | Bettie Page as a Majorette -- Chicago '09 | Powergirl - Wizard World Chicago Comic Con 2007 |
| | | | |
| Red Sonja and Coda (the bird owned by the owner of this drawing - Chicago '06 | Mermaid 8&1/2 x 11 inches --Chicago '05 | Amethyst 11 X 17 inches --Motor City Con '05 | Devil Girl 11 X 14 inches --Motor City Con '04 |
| | | | |
| Vampire Batman 8 & 1/2 x 11 inches-- Chicago '04 | The Sandman 8 & 1/2 x 11 inches -- '03, I think | Medusa 11 X 14 inches -- Motor City Con '03 | Miracle Man 8 & 1/2 x 11 inches -- Motor City Con '02 |